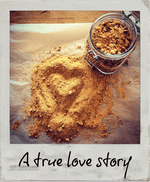 It's quite exciting to be able to finally communicate with you all through this post; frankly, it feels as if a long dream is finally being answered. A concept very close to my heart is being pursued on our blog and I could not be happier! Before I share my ideas with you all, let me take this opportunity to walk you through the story of Hermann gourmet cosmetics. ​​​It all started back in 2014; a simple idea was conceived in a small kitchen in Nicosia, Cyprus to make natural cosmetics using simple and affordable ingredients.
Musing with this idea that night it was there in that tiny kitchen that I produced my first batch of cream capable of gently nourishing the skin to bring out its inner radiance.
There was something special about resorting back to a more traditional way of skincare that appealed to us. Tried and tested recipes used by generation after generation, simple ancient secrets locked within these concoctions.
These recipes are highly effective at treating the skin and contain the nourishing power of natural oils that protect and deeply moisturize the skin. We later combined them with the latest scientific beauty technology working closely with botanists and dermatologists to produce a rich blend of formula with the aroma and texture preserved in its natural state. Our line offers a unique and exclusive range of cosmetics with authentic and natural active ingredients, defining our concept of Hermann gourmet cosmetics.
Cruelty is not beautiful and neither is any cosmetic made through the torture of animals. Anyone who knows me personally knows the love I share with animals, especially dogs.
I have two wonderfully active pooches: Anna and Zannax, to think that dogs and other animals suffer at the hands of cosmetic markets is a grotesque concept for me. As a brand, we strictly oppose animal cruelty and animal testing and make no use of animal products in any of our cosmetic lines. We advocate the fight against animal brutality and make sure we use this platform as a way to address this issue to the public. That is one of the major objectives of our unique brand identity.
We strongly support the determination and efforts of PETA to fight against animal cruelty, admiring their dedication and endless efforts to eradicate animal cruelty throughout the world. People for the Ethical Treatment of Animals (PETA) is the largest and the most active animal rights organization around the globe. It aspires to draw attention to areas where animals suffer the most including cosmetic industries and laboratory testing.
I am quite pleased to announce that Hermann Gourmet Cosmetics is officially registered as the first Cyprus-based cosmetic brand to have earned the seal of cruelty-free from People of Ethical treatment of Animals (PETA). This seal makes us one of the ambassadors of cruelty-free brands and a part of PETA's international database. Reaching to this point has been a tumultuous journey with many highs and lows; however, the honor bestowed on our brand is gratifying beyond belief. We are ecstatic to be a part of PETA's international family and it is an honor to be a part of the battle that aims to eliminate animal cruelty and abuse. Hermann cosmetics is officially registered on PETA'S BEAUTY WITHOUT BUNNIES program.
 
Emerging from a small kitchen on an island to being labeled with PETA, our brand is ready to cover new lengths of success along the way. Looking back at the journey fills us with happiness and joy; however, there are many roads yet to be conquered.
You are precious to us. It is our deepest aspiration to continue making the best handmade and natural gourmet cosmetics for you. Our priorities lie in providing our local customers with gentle and natural routes to beauty and expand internationally to introduce the best natural creations from our kitchen to the world. PETA'S BEAUTY WITHOUT BUNNIES program has led us to believe that there are still so many paths left for us to overcome. We are happy to have your support with us on the way to becoming a well-established gourmet cosmetics brand.
 
We will keep in touch to let you know what's next for Hermann cosmetics!
 
lots of love,
Philio Hermann