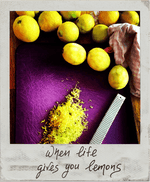 Building something beautiful out of a simple idea is never an easy task, visualizing your dreams takes hard work, joining the pieces together takes effort; but one thing is for certain, it always pays off. When I started making my first products in my kitchen, I simply felt the urge to produce the products that I never seemed to be able to find or afford in the market. I did not start with a clear vision and frankly, I had no idea what my first product, Bee All, would look or feel like.
But the passion for creating something wonderful urged me to take that first step, so I took a big breath and jumped into the deep waters. With a leap of faith that one night, I turned these notions into a real life product and without really realizing it, started the journey of Hermann cosmetics.
Knowledge is power and a lot of research goes into creating the ultimate product. Soon after that night I started reading and researching day and night. No fatigue or sleep would stop me from pursuing what I believed in and I would often look forward to getting home and experimenting in my kitchen. I tracked down some amazing local producers of organic herbs, raw materials and essential oils, and the harder I strived, the luckier I got!
More people started getting involved and before I knew it my team comprised of some of the most brilliant and empathetic people I could ever wish for. Joining forces, we attempted to create this Cypriot brand, Hermann Gourmet Cosmetics.
I had wanted to produce something different from mainstream cosmetic industries and that was when i thought of using ancient recipes containing simple ingredients that stood the test of time. The richness of beeswax would provide the velvety feeling for Bee Lips; the sweet aroma of geranium essential oil would be used for the night cream, utilizing the natural nourishment locked within these ingredients provided extra richness and a soothing feeling to my products.
They always say, "Life is too short for regrets", but I don't agree. Life is too short to not follow your ambitions; it is too short to give up on ideas that could make a difference in the world. A few days ago I received a rather welcoming call from the Cyprus embassy in Berlin, informing me that they loved the brand.
Overwhelmed, I nearly dropped the phone and just then heard that our new eye cream, Bee Eye had been voted by beauty bloggers in Germany as a product of the year! Words cannot describe my gratitude, truth be told, I feel like so many people have worked hard to make this happen, from developing the ancient recipe to combining the natural ingredients with innovative technology. From flowers of Cyprus inspired illustrations to graphics, printing, and every other department, Hermann Cosmetics is a combination of the efforts of its entire team!
 
I look forward to sharing more great news of the Hermann cosmetics story.

Wishing you all a great day and sending positive vibes your way.
Philio Hermann