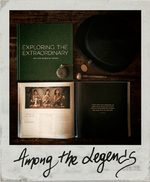 I'm a lot shyer than most people think.
​Sharing a celebration of success with your social media audience can feel like a self-administered pat on the back. I must admit that deep down, my shy personality may make me feel uncomfortable when I want to share some exciting news, but at the same time I can not remain silent about such an important moment for us. Why?
Because I think of all the backstage action that led us to this remarkable distinction and I'm so privileged to experience every single day of my Hermann Gourmet Cosmetics life.
Running a cosmetic brand feels very similar to directing a theatrical play. The audience takes their seat and comfortably enjoys a spectacular show, many times not even suspecting the many different people coming together to work hard behind the scenes for that play to come to life.
Creating cosmetics can be very similar to putting together a stage play. An idea sparkles unexpectedly in your mind and slowly starts becoming a reality, all because of the hard work of an extraordinarily talented and dedicated team.
What you don't see... Hard work? Stubbornness? Dedication? Passion? In business everyone loves a success story, but who can really see which essential factor is hidden behind the curtain that will determine the path of becoming one? 
​
In theater, the level of success is set by the applause. In our kind of stage, the applause takes the form of moments like this one.
Bentley Motors has selected Hermann Gourmet Cosmetics to participate in their 100 year anniversary celebration as Lifestyle Brand of Choice.
We have become a part of history along with our country, the beautiful island of Cyprus that has received this type of distinction for the very first time. For me, this is the most important and emotional part of our recognition as a brand. Success is not only calculated from sales, revenue and projections.
We were able to bring some much deserved exposure to our country, featuring it among the most prestigious and exclusive circles of the world. It may sound familiar to locals when mentioning our island, a large part of the world is unaware of our island's existence. Now they know. That, for me, is the biggest reward a girl following her dream could hope for.
The extraordinary story of how we made it into the pages of history can be read here in English or in Greek.
As everything in life changes, our newest family member wanted to say "Hello!" This kind, ever-loving wonder of a dog came into our life as a rescue, though it's hard to say who saved who :)
Until next time,
Lots of love,
Philio Hermann