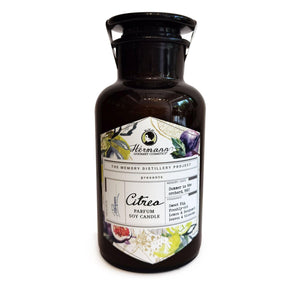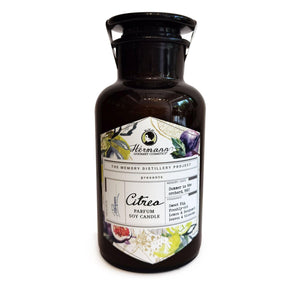 On Sale
Citrea Parfum Apothecary Candle
Welcome to the world of Citrea. The distilled essence of a childhood memory, of the smell of Sweet Fig and freshly-cut leaves and blossoms of Lemon & Bergamot.

Description
"My favorite childhood memory was spending summers in my grandparent's house which was built among a beautiful orchard with trees, herbs, and a vegetable garden. I remember playing among the trees. Climbing on the luscious fig trees was the best hiding place ever! The scent of lemons and figs instantly reminds me of summer and takes me to a more innocent, carefree time I cherish dearly!"
-The Memory of Mary

This natural, hand-crafted, soya candle was lovingly made using the traditional method and the finest quality raw materials. Packed in a stunning, traditional apothecary jar! 
Details

Soya
Real Citrea Perfume

Burns for 80 hours (250ml) , 160 hours (500ml)
Not tested on animals / Peta approved