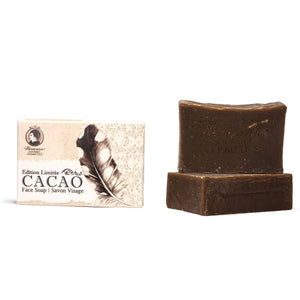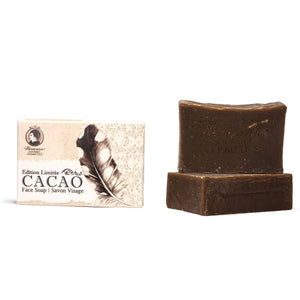 On Sale
Cacao Face Soap
Cacao face soap has a delicious scent and treats the skin with lots of antioxidants, vitamin C & magnesium, which are helping to protect, boost cell rejuvenation, and keep the skin hydrated, healthy and glowing
Description
This amazing cacao face soap comes with a delicious scent and treats the skin with a feast of antioxidants, vitamin C, and magnesium, which help in protecting the skin, boost cell rejuvenation and keep the complexion hydrated, healthy, and glowing.
The soapbox is decorated with the hand-drawn, stunning feather of the resident Black Francolin (Francolinus francolinus), locally known as Frangolina.
Details

Natural Active Ingredients:
→ Olive Oil: Anti-aging benefits
→ Coconut Oil: Moisturizing and soothing
→ Shea Butter: Anti-inflammatory properties
→ Castor Oil: Skin Cleanser and softer
→ Cocoa Butter: Prevents dryness, soothes & heals dry skin
→ Cocoa: Helps renew and firm new skin cells, and promotes healthy skin tissues and healthy cell development.

This soap is good for you because:
it contains no chemicals
was made by people with love and not machines
offers aromatherapy benefits
nourishes as opposed to drying out your skin
Content : 100g
​Paraben-Free
Contains No Alcohol
Highly Concentrated
Not tested on animals / Peta approved​
Natural Cosmetics and Skincare products made in Cyprus