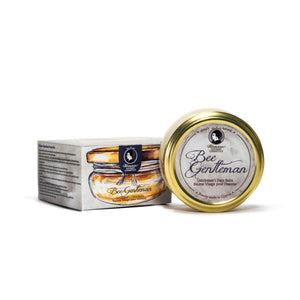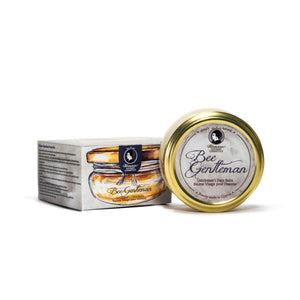 On Sale
Bee Gentleman Balm
Bee Gentleman was created for male skin needs. It is absorbed easily and moisturizes the skin day and night.
Description
Bee Gentleman is a light balm especially handcrafted for gentlemen, based on an ancient recipe over 2000 years old. Easily absorbed by the skin, we can apply it day and night, offering deep moisturization. It gradually improves skin texture and helps reduce fine lines. With distinctive aromas of juniper, black pepper and lavender to offer a sense of wellness, energy and serenity. The rose and calendula extracts calm and soothe the skin while restoring skin cells.
Details
Suitable for all skin types, dry or sunburnt skin, sensitive skin and skin with acne.
Natural Active Ingredients:
➔ Almond Oil: Naturally traps moisture in the skin and provides anti-inflammatory and soothing properties. Restores normal PH on skin and allows skin to glow.
➔ Olive Oil: Anti-aging benefits, protects against ultraviolet light and premature aging, prevents radical skin damage.
➔ Apricot Oil: Anti-inflammatory, anti-aging, antioxidant properties. Moisturizes while preventing damage to the skin
➔ from free radicals.
➔ Beeswax: Holds moisture and prevents clogging pores. Adds a pleasant silky texture.
➔ Vitamin E: Offers antioxidant properties. Promotes new cell regeneration and collagen production.
➔ Juniper Oil: Has an antiseptic quality, which can keep the pores clear and skin matte, as well as anti-inflammatory properties.
➔ Lavender Essential Oil: Rich in antioxidants offers antiseptic and antimicrobial properties beneficial for maintaining healthy skin.
➔ Black Pepper Essential Oil: Antioxidant, stimulates and improves circulation.
➔ Rose Extract: Natural antibacterial with soothing and anti-inflammatory properties.
➔ Helps support the natural renewal process and prevents dehydration.
➔ Calendula Extract: Offers natural restorative properties that infuse the skin with a youthful glow. Calms and protects the skin from premature aging.
Content : 65 ml

Paraben Free
Contains No Alcohol
Highly Concentrated
Not tested on animals / Peta approved
Natural Cosmetics and Skincare products made in Cyprus