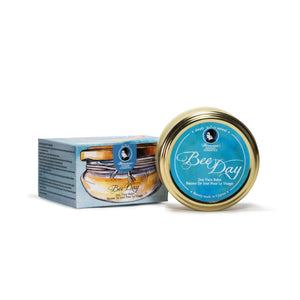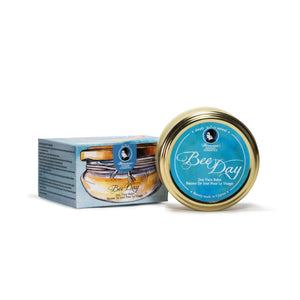 On Sale
Bee Day Balm
Bee Day is a light balm which is easily absorbed and moisturizes and improves skin texture.

Description
Bee Day is a light balm which is easily absorbed and moisturizes and improves skin texture. Rich in almond and jojoba oil, it is an anti-inflammatory product which cleanses and reduces fine lines and prevents wrinkles. Suitable for all skin types including mature skin, skin with acne, dry skin, sunburn and sensitive skin. Gives a sense of suppleness and calm to the skin thanks to essential oils of geranium, lavender and rosemary. Bee Day is a handmade cream-based from 200 A.D. made with 100% natural products. A balanced blend of an ancient recipe.
Details

Natural Active Ingredients:
➔ Almond Oil: Naturally traps moisture in the skin and provides anti-inflammatory and soothing properties. Restores normal PH on the skin and allows the skin to glow.
➔ Jojoba Oil: Moisturizes and improves the flexibility and elasticity of the skin.
➔ Olive Oil: Anti-aging benefits, protects against ultraviolet light and premature ageing, prevents radical skin damage.
➔ Beeswax: Holds moisture and prevents clogging pores. Adds a pleasant silky texture.
➔ Vitamin E: Offers antioxidant properties. Promotes new cell regeneration and collagen production.
➔ Geranium Essential Oil: Promotes cell growth supports the regeneration of new cells. Relieves stress, helps reduce anxiety, minimizes inflammation, improves circulation.
➔ Lavender Essential Oil: Rich in antioxidants offers antiseptic and antimicrobial properties beneficial for maintaining healthy skin.
➔ Rosemary Essential Oil: Rejuvenates tones and hydrates skin as well as treats acne and oily skin conditions. Improves skin complexion, stimulates biological activity and cell growth, reduces fine lines, puffiness, swelling and wrinkles.
➔ Rose Extract: Natural antibacterial with soothing and anti-inflammatory properties. Helps support the natural renewal process and prevents dehydration.
➔ Calendula Extract: Offers natural restorative properties that infuse the skin with a youthful glow. Calms and protects the skin from premature ageing.

Content : 65 ml
Not tested on animals / Peta approved
Natural Cosmetics and Skincare products made in Cyprus